Zelda : Breath of the Wild - WII Switch
Zelda: Breath of the Wild is captivating newcomers.
   You don't have to know anything about prior Zelda titles to enjoy BotW or understand the story. As far as I can tell, it's not a continuation of any previous Zelda game. It can be viewed as a stand alone title that happens to include items, characters, and game play elements that also feature in most other Zelda games. While fans of the series may recognize and delight in the inclusion of several tribes/characters that have made appearances in previous Zelda titles, there's no need to worry about being lost as to who's who and what's going on.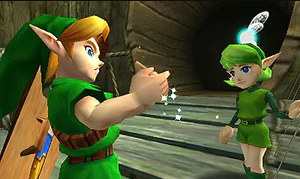 Zelda games are typically very good at introducing the core game mechanics, and BotW is no different in that regard. Most players shouldn't have any trouble learning the basics, regardless of age or gaming experience. There are a few more advanced mechanics that both newcomers and Zelda veterans alike may have some trouble mastering (e.g. shield parrying, triggering flurry attacks, attacking from horseback); however, the good news is that none of those mechanics are actually required - they simply add another layer to how you can play the game.
    In terms of age appropriateness, that is of course up to the parent. If your child is old enough to see PG movies, they should be able to handle the cartoon violence (there's no blood, but you do fight various monsters using a variety of weapons).
   
    In summary, BotW is a fabulous game for all types of gamers, including kids and folks who are new to the Zelda series. It's great for anyone who enjoys games that involve puzzles, exploration, and/or platforming (and of course, has a Nintendo Switch or WiiU console).